James Kling Fellowship Award
2013 James Kling Fellowship Award Winner: Luke Desmone

During August of 2013, Luke Desmone, AIA, will become the fifth recipient of the AIA-MBA Joint Committee's James Kling Fellowship Award. Mr. Desmone is an extremely appropriate person to be named a Kling award winner, as this achievement is given to the person that bridges the gap between the design and the constructor professions and he has done this since day one in the construction industry. In a short Fives Minutes with the MBA News interview, he discussed how contractors have shaped him and his knowledge of the industry, plus other stories that you'll enjoy hearing about.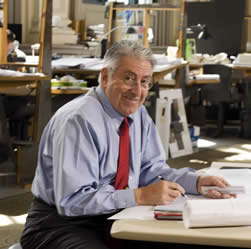 On advice for younger people: Learn as much as you can and never stop learning. I started early in my construction education. I was in ninth grade when I started working for a contractor. I was digging ditches for the footers of a funeral home in Swissvale. And the funny thing is that I drive by that funeral home every day and it's still standing so I must have done something right in my career (laughs Luke). Also, my advice is that networking is a fun part of the industry so make sure to make time for it.
On his firm: In 1958, my uncle started a firm. I started working for him in 1965. He was my mentor. I learned a lot from him and it was helpful when it came time to start my own firm in 1985. Two years later, my son Chip became my partner. I really enjoy working with Chip and I learn so much from him.
On your close friend, the recently retired Dwight Kuhn of Jendoco: Dwight is an extremely thoughtful and thorough person. Dwight could always bring reality to my cocktail napkin sketches. Our first encounter was when we worked together on the Forbes Vo-Tech project. Dwight was in high school there when I started on the project. It turns out the GC on the project was removed and the bonding company took over. They hired Jendoco to finish the project. Right after high school, Dwight started working for Jendoco and we became friends when we both worked on Forbes Vo-Tech. Along with Dwight, I have met some great people from past projects. In the early days I worked with Uhl and Massaro and they both have amazing people working for them. The list of great people working for MBA contractors is long.
On your firm shifting its focus from Public to Private Sector Work: There are some state laws that are bizarre and at the local level school boards tend to destroy all possibilities of innovation and people don't understand good design and good education. It's a shame. The Separations Act is a good example of a bizarre law in the books and it plays a role in why we do not pursue work in the public sector.
On the employees at your firm: The people at the firm are brilliant. I'm amazed by them. I really enjoy coming to work every day. I learned early on that surrounding yourself with people that are smarter than you is the key to success.
On the next couple of years: The construction industry will only continue to grow - hold on to your hats, it's going to get even more exciting.