James Kling Fellowship Award
2014 James Kling Fellowship Award Winner: Angelo A. Martini, Sr.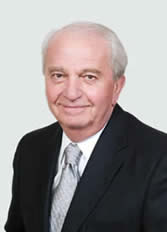 In late August of 2014, Angelo Martini, Sr. will become the sixth recipient of the AIA-MBA Joint Committee's James Kling Fellowship Award. Mr. Martini is certainly an appropriate honoree to be named a Kling award winner. This achievement is given to a person that bridges the gap between the design and the construction professions and he has exemplified collaboration since early in his career. To get to know Mr. Martini, here is Fives Minutes with the MBA News interview.
On a career in construction. All in all, I've enjoyed my life in the construction industry. The relationships I've made from suppliers, subcontractors, designers, brokers, to owners have been long lasting based on mutual respect. Sure you'll come across a bad seed every once in a while but that's very rare for the most part. The people that I have encountered in this industry are dynamic, hard working people who are committed to providing quality. I'm also very proud to have continued my father's legacy of integrity and excellence in business through providing quality workmanship, fair pricing and timely responsiveness for our much valued clients throughout the years. I am very pleased that my sons also understand the importance of this approach in order to both maintain and build a respected reputation as a General Contractor in the region.
On learning the industry. My education process in this industry was very hands-on. I began working for my dad in 1960. I started in the field, and after six years of running field work I was brought into the office to learn how to run a business. My dad retired in 1968; subsequently my sister and I took over the family business. I am grateful for my field experience, for it truly enabled me to understand how things get built and how to both identify and address challenges in the field. Then I shifted to the office where I focused on the hands-on issues of how to manage a construction company. This educational process seemed to have worked for me, so I employed the same process for my boys – Anthony and Angelo Jr.
On the MBA. I truly believe that the Master Builders' Association is a wonderful organization. The people associated with the MBA are true gentlemen and every time I attend an MBA function I both enjoy myself visiting with "old" associates and meeting new contacts. It was difficult running a mid-sized company and finding the extra "free time" to participate on MBA committees. In the past I was invited to run for the Board but I didn't feel I could give the position the amount of time it deserved, so I passed on what probably would have been a memorable experience. I'm glad Anthony is able to be active in the MBA; he truly finds serving on the Board to be beneficial to our company, to himself and the industry at large.
On advice for younger people. I enjoy being around the younger professionals at our company. I believe it is important to work hard and enjoy the people around you. When we are bidding a renovation project to an older building, they jokingly ask me to get involved since the building is old. I'm not one to preach life lessons but I try and work in advice that we all need to be reminded of from time to time: "Your word is your word" and "pay attention to detail."
On winning the James Kling Fellowship Award. I am truly honored to win this award and join the list of reputable people in the industry that have won before me. (To view past winners click here)
Mr. Martini was nominated for this prestigious award by Daniel Delisio, Owner of NEXT architecture. He had this to say about Mr. Martini: "I have had the pleasure of getting to know Angelo, Sr and his sons early in my career here in Pittsburgh over 25 years ago. We have completed numerous projects together in that time and I have found Angelo, Sr to be one of the most honest, ethical and hard-working individuals I have worked with. When he gives me or one of my clients his word, you know you can trust him."