Best Practices Guides
Project Collaboration Best Practices
Chapter 1: Benefits of Collaboration
"Every now and then a major construction project is completed on time and on budget. Everyone is amazed."
Broken Building Busted Budgets by Barry B. Lepatner
Collaboration is defined by Merriam-Webster as "to work with another person or group in order to achieve or do something." Recognizing that building projects are highly complex and require the unique expertise from a vast variety of design, construction, and facility management professionals, it is logical to think that getting all project participants to work together more collaboratively would bring better results. Data and feedback from completed collaborative projects bears this out.
A 1997 Penn State Study of 351 completed projects quantified that cost and schedule increases were lower and quality was higher in design-build projects, which allows for higher levels of collaboration. A study of 408 projects by Cannistraro quantified a decrease in change orders (the main source of budget and schedule overruns) from 18.42% to 2.68% by teams collaborating using Building Information Modeling (BIM). Collaborative processes are also now being recommended and recognized in sustainable design rating systems, such as LEED, as well as energy codes with ASHRAE's Standard 189, as a process that greatly improves sustainable results.
Despite the evident value provided by higher levels of collaboration, our industry continues to prescribe project delivery systems that do not encourage collaboration for the perceived value of the competitive bid. The chart below illustrates how various delivery systems may enable higher levels of collaboration by overlapping design and construction; providing better opportunities to work together as a team:

Figure 1 This graph indicates when the design and construction disciplines are initiated by delivery method and also the amount of time where there is an overlap on a project.
We understand that the Design-Bid-Build delivery model may be mandated for some project types. We also realize that this traditional delivery system has caused adversarial, non-collaborative behaviors to be engrained into our culture. As a result, these engrained behaviors are known to present themselves even when other, more collaborative, delivery systems are implemented.
Therefore, while certain delivery systems may potentially support higher levels of collaboration through contractual prescription, this guide focuses more on the behavioral and organizational collaborative principles and best practices that may be implemented through all delivery systems.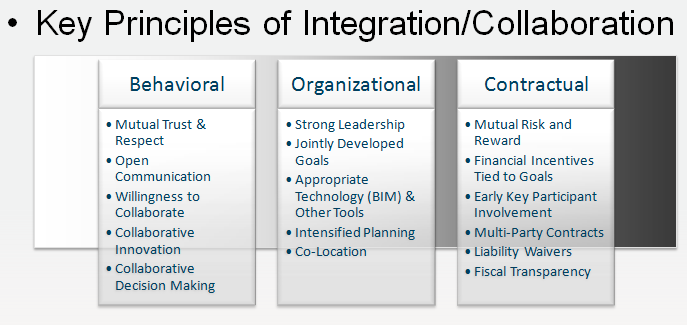 AIA-MBA Joint Committee Contact Information:
Eric Starkowicz, Director of Industry Relations, Master Builders' Association of Western PA
Phone: 412.922.3912 Email: estarkowicz@mbawpa.org