Best Practices Guides
Project Collaboration Best Practices
Case Studies - Penn State University Henderson Project Phase 2: Health & Human Development Building
PROJECT DESCRIPTION: The Health & Human Development Building is the second phase of a two-phase, Pennsylvania Department of General Services-funded project for the College of Health & Human Development. This project consisted of 105,505 SF of new construction and 39,147 SF of renovation construction and the total building cost is $43,500,000 for this project on Penn State University Main Campus. This project is delivered as a Design-Bid-Build multiple prime delivery method.
MAJOR IMPETUS FOR HIGHER LEVELS OF COLLABORATION: Penn State's Office of Physical Plant selected this project as one of several pilot projects to test process innovations in an effort to create higher-performing and more predictable construction delivery outcomes. The two-phase Henderson project also presented a unique opportunity to explore the benefits of facilitated collaboration, as many members of both the design and construction teams continued on from the initial phase, which was delivered in the traditional manner.
KEY PLAYERS: OWNER: The Pennsylvania State University; ARCHITECT: Bohlin-Cywinski Jackson; CONSTRUCTION MANAGER (Agency CM): Massaro Corporation
PROJECT TEAM SELECTION CRITERION: The Architect and Construction Manager were pre-selected. Design-Assist from trade contractors was limited due to contractual limitations by the funding source (DGS). Under these limitations it was not permissible to directly engage trade contractors in advance of the open public bid process. Massaro engaged three non-bidding, Design-Assist trade contractors for limited scope.
CULTURE AMONGST TEAM: The team was generally engaged and positive, with communications being typically quite candid. Everyone constantly communicated face-to-face. Regular 360 Team Surveys indicate high marks for respect, teamwork, cooperation and other leading indicators of high-performance.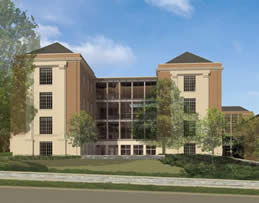 EARLY INVOLVEMENT OF PROJECT TEAM MEMBERS: Penn State, the Architect and CM participated in a number of Design Development workshops centered on collaboration and process improvement. After establishing a common project purpose statement and achieving consensus on key performance indicators, the focus turned to basic job processes. The goal was to improve results in a direct and measurable way over the Phase 1 project. Key innovations were made in managing safety, cost control, issues, RFIs, and submittals.
TECHNIQUES THAT ALLOWED TEAM TO OPERATE COLLABORATELY:
BIM coordination during design and construction – essential for building common understanding, identifying and resolving conflicts, and reducing rework.
Sharing space in the "Big Room" – broke down typical barriers to engagement and communication.
Collaborative pull planning from the field – empowered the trades to "own" the schedule as a team.
Mobile Project Management Information Systems – facilitating improved monitoring, as well as streamlining issue tracking and resolution.
Personal commitment to collaborate and excel – with strong leadership from Penn State and expressed in tens of thousands of individuals and group interactions over the course of the project.
Design team had a constant jobsite presence.
RESOURCES THAT ENHANCED COLLABORATION:
Prolog by Meridian Systems for Project Management Information System including Cost Control.
Revit/Navisworks/360/Glue by Autodesk for BIM development and coordination.
BIM 360 Field by Autodesk for mobile field data and document management.
Revu by Bluebeam for processing electronic documents and submittals.
The "Big Room" established on site as all parties were required to collocate in this shared working environment.
Pull Planning to work with whiteboards to develop and make visible the schedule.
QUANTIFIABLE PROJECT OUTCOMES: Due to the project ending recently, data collection and evaluation is still ongoing at this time.
LESSONS LEARNED FROM THIS PROJECT:
Process Improvement Model (PIM): Face-to-face interaction and focus on information quality.
Big Room: Overall configuration works well, central collaboration space is heavily used, placing assigned CM staff adjacent to their Primes boosted personal engagement and communication.
Pull planning: The value of this approach on schedule delivery has exceeded everyone's expectations.
AIA-MBA Joint Committee Contact Information:
Eric Starkowicz, Director of Industry Relations, Master Builders' Association of Western PA
Phone: 412.922.3912 Email: estarkowicz@mbawpa.org