Best Practices Guides
Project Collaboration Best Practices
Case Studies - Penn State University South Halls
PROJECT DESCRIPTION: This 365,000 SF, $88 million Design-Build construction project was a transformative phased renovation of eight 1950's residence halls at the southern edge of campus, facing downtown State College. The project also includes significant improvements to the district dining commons and the construction of one new residence hall.
MAJOR IMPETUS FOR HIGHER LEVELS OF COLLABORATION: Delivering a more collaborative project is now a Penn State contract requirement and the selection of Design-Build delivery method allowed for higher levels. Prior Barton Malow and Clark Nexsen joint experience and the long length of project, overlapping phases, and aggressive dates for individual residence hall completion requires a high performance team and early Design-Assist Subcontractor involvement.
KEY PLAYERS: OWNER: Penn State University; ARCHITECT: Clark Nexsen; GENERAL CONTRACTOR: Barton Malow.
PROJECT TEAM SELECTION CRITERION: The selection of Design-Build as the delivery system placed an emphasis on the relationship between the Constructor and the Architect, and the team's ability to work with a large, diverse group of stakeholders. The selection process lasted a few months and it required a Schematic Design submission. This process forced the Design-Build proposing teams to quickly bond in order to meet this challenge, and the strength of the working relationship was apparent in the created design and in the interview. Eight Design-Assist Subcontractors were selected months in advance of construction and participated in the team charter signing. Subcontractor selection criteria was best value, not low price.
CULTURE AMONGST TEAM: The team displayed high levels of trust, respect, and transparency, plus there was a collaborative and energetic disposition amongst the team – far from adversarial. The culture was greatly assisted by clarity of roles and alignment of team objectives.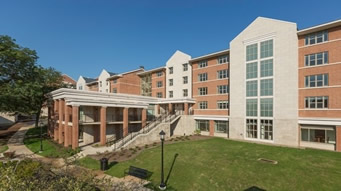 EARLY INVOLVEMENT OF PROJECT TEAM MEMBERS: Having the Design-Build team together on day one, as a joint selection, set the tone for a collaborative team as they led intense design charrettes monthly with the Owner and major Subcontractors. Visualization, through technology and early mock-ups, was utilized frequently to make decisions. Joint field investigations were performed regularly to mitigate the risk of existing conditions. Design-Assist Subcontractors focused on early identification of manufacturers, products, and systems to streamline the design process. Prefabrication strategies were discussed early as a team and incorporated in the design.
TECHNIQUES THAT ALLOWED TEAM TO OPERATE COLLABORATELY:
Co-location: The "big room" field office concept of all the key team members in one location, with no walls, was very effective.
Project Coach: The Owner provided a Project Coach to lead the charter development and monthly team meetings. This individual was not part of the day to day project operations.
Team performance metrics: The team established safety, quality, schedule, cost, and RFI/submittal turn-around goals that were reviewed quarterly.
360 team environment surveys: The school's Architectural/Engineering Department facilitated on-line 360 surveys for topics such as trust, mutual respect, and communication. Data was presented to the team quarterly and action plans were developed to address negative trends.
RESOURCES THAT ENHANCED COLLABORATION:
Project Management Information System (PMIS): A web-based tool to effectively track data from RFIs and submittals was easily obtained.
Tools in the field were used to maximize efficiency (i.e. Touch screens, iPads, and BIM).
On-line team environment surveys.
QUANTIFIABLE PROJECT OUTCOMES: Due to this project recently being completed, the PSU Architectural/Engineering Department is still conducting its research.
LESSONS LEARNED FROM THIS PROJECT:
Early Subcontractor involvement was critical, especially with complex renovations.
Collecting feedback routinely on lessons learned to date and implementing continual improvement adjustments is very helpful to obtaining project goals (primarily schedule).
Driving the collaborative culture into the field level personnel is challenging, but rewarding.
Monitoring and fostering team health with a Project Coach made the task of building with a collaborative team much easier.
THOUGHTS FROM THE OWNER:
"This project won the 2014 Architectural Engineering Institute's Professional Practice Awards for CM Excellence and Best Overall Project. The accolades were due to the acceleration of the schedule through facilitated collaboration. The first residence hall renovation was 14 months and the next three halls were accomplished in seven months each."
John Bechtel, The Pennsylvania State University
AIA-MBA Joint Committee Contact Information:
Eric Starkowicz, Director of Industry Relations, Master Builders' Association of Western PA
Phone: 412.922.3912 Email: estarkowicz@mbawpa.org